Montpellier Management is the first of University of Montpellier's 16 schools to offer e-learning. Seven of our programs may now be taken online. Nearly 16% of our students take their classes online using e-learning, implemented in partnership with the French National Center for Remote Learning (CNED) and the Francophone University Association (AUF).
Montpellier Management enables students in some programs to take 100% of all their classes remotely via e-learning. This flexible learning opportunity enables students to benefit from a full curriculum in complete autonomy. Students can work at their own pace and access online courses via their workspace on the e-learning platform at their own convenience : www.moma-online.fr
Professors track students' progress, help them with assignments, and grade them. By eliminating constraints related to time and location, e-learning opens programs to a broader audience, including independent professionals, students with families, high-level athletes, handicapped students, students abroad, and more.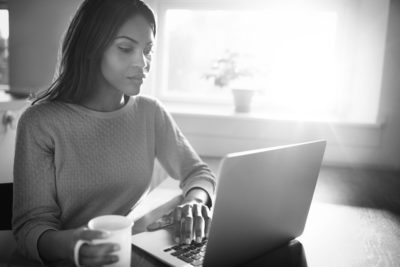 E-learning is an online teaching method based on using new information and communication technologies. This flexible solution allows you to study at your own speed without being subject to constraints related to time and location. Montpellier Management offers a complete curriculum of e-learning programs, from Bachelor's 1 to Master's 2. All programs are recognized by the French Department of Education and respect the European ECTS standard.
E-learning includes various tools:
Teaching platform
Digital Work Environment (ENT)
Virtual library
Personalized assistance
Montpellier Management currently has over 600 students in its virtual campus.