Well known for its pleasant climate, the city of Montpellier is located in the heart of the Latin Arc and only a few kilometres away from the Mediterranean Sea.
Capital of the Hérault department in the Occitanie Region, Montpellier is the 7th largest town in France, with 282,000 inhabitants, of whom 60,000 are French and also international students. Montpellier is a young, open-minded city, pleasant to live in, filled with promising activities and welcoming students from all over the world !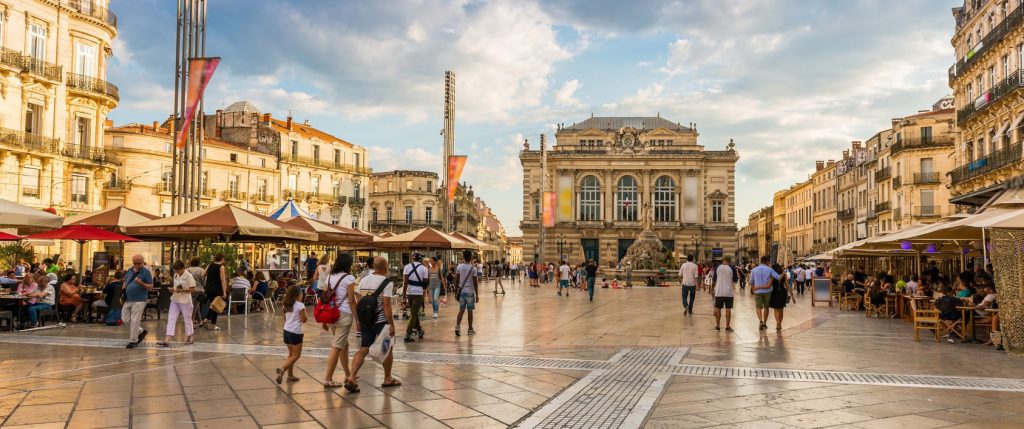 Average annual temperature : 14°C (summer: 25-30°C, winter 5 to 15°C).
Average daily sunshine rate : 7h22.
Founded in the 10th century, Montpellier became a renowned intellectual centre during the Renaissance period. The School of Medicine, founded in 1220, is the oldest medical school still in activity in the western world.
Close to the Mediterranean Sea (13 km), 4 hours by train from Paris and Barcelona. Surrounded by two rivers: the Lez in the East and the Mosson in the West. Closest mountain: the Pic St-Loup (658 meters high).
The Cité internationale de la danse, internationally known for its contemporary dance shows and the Montpellier Danse Festival, one of the most famous in France.
The city is accessible by train (Saint Roch train station in the city centre and Montpellier Sud de France train station, 6 km from the city center), by plane (Montpellier-Méditerranée airport, accessible by shuttle bus). A tramway network (4 lines) and many buses lead to the city centre, the train station and the university campuses.