Scientific activity at Montpellier Management is conducted in cooperation with five research teams specializing in law, economics, and management, in partnership with the LabEx Entreprendre laboratory.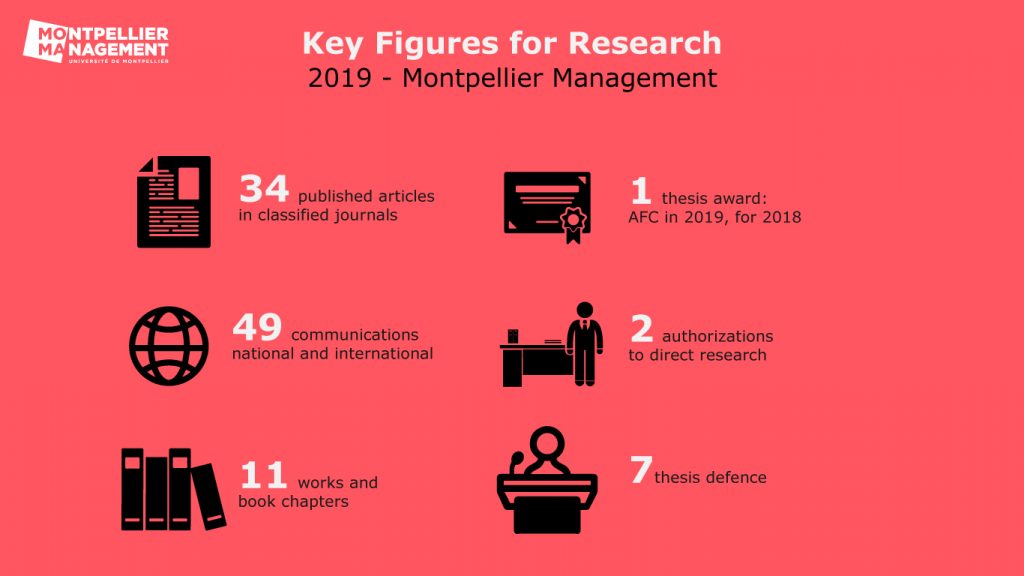 The five research teams at Montpellier Management – MRM, Dynamics of Law, LDP, CREAM, and CEE-M – include the majority of our research professors.
Most of the research professors are affiliated with the MRM Welcome Team. This organization, which offers an original approach with respect to other French management laboratories, combines oversight from different types of bodies, notably universities and higher schools of education, over a broad regional area. With over 200 researchers (139 permanent and 90 PhD students), MRM is also a large laboratory in terms of the number of tenured research professors and PhD students, giving the laboratory critical mass at a national and international level.
 

Research Professors

ATER PhD students

Montpellier Research in Management

(MRM)EA 4557

42
18

Dynamics of Law

UMR 5815

2
 

Laboratory of Private Law

(LDP)EA 707

2
 

Montpellier Center for Research and Administrative Studies

(CREAM) EA 2038

1
 

Center for Environmental Economics – Montpellier (CEE-M) UMR 1135

1
 
Scientific activity is carried out in collaboration with LabEx Entreprendre.  Comprising several research teams specializing in law, economics, and management, the laboratory was ranked "Class A" by the international LabEx evaluation jury. Entreprendre is the only Excellence Laboratory in France dedicated to entrepreneurship that was chosen in France's Investments for the Future (PIA) call for projects.
Six chairs have been established by Montpellier Management with LabEx Entreprendre on major topics such as sustainable development, health, and entrepreneurship.